Archiving provides additional mailbox storage space to Office 365 users. Once archiving is turned on, users can move the older messages from their primary mailbox to the archive mailbox thus freeing up primary mailbox space. The messages in the archive mailbox this can be accessed using Outlook on the web.

View archive mailbox size in Security & Compliance Center.

Office 365 archive mailbox size is either 100 GB or unlimited based on the user subscription. If the IT admin wants to keep track of the free space in archive mailbox for security and compliance purposes, there is no comprehensive report available in Office 365 admin center. However the usage details of individual archive mailboxes can be found in the Office 365 Security & Compliance Center. (Refer image below)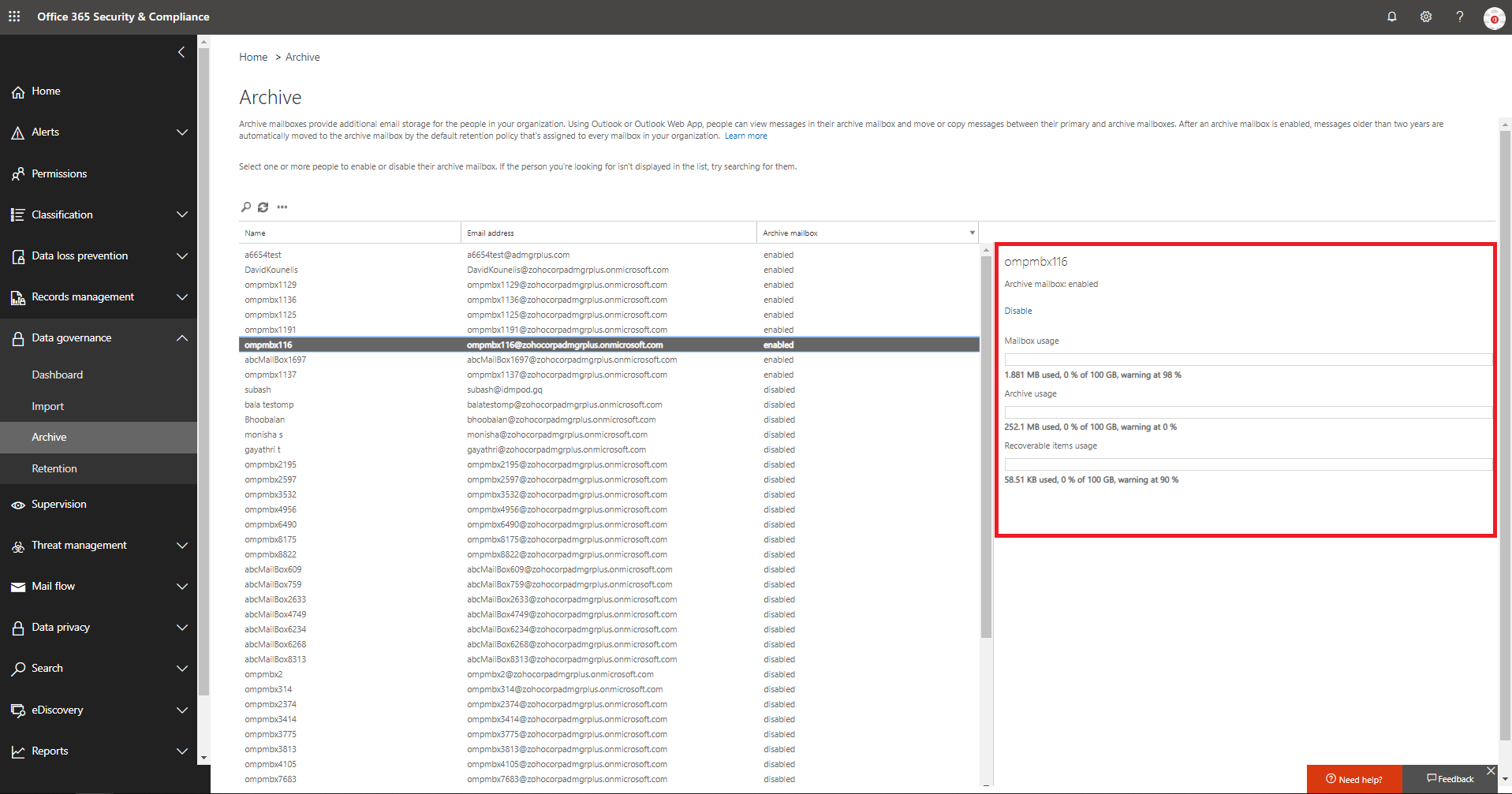 It can be clearly seen that this report on free archive space is cumbersome. Furthermore, it would be a daunting task to monitor the free space of each archive mailbox. One way to mitigate this challenge is to use a solution that provides a summarized report. A summarized report gives a snapshot of all the archive mailboxes in a single click unlike Office 365.

View Archive Mailbox Size report with O365 Manager Plus

O365 Manager Plus comes with 700+ built-in reports which offer details on Exchange Online mailboxes, Azure AD users, contacts, Office 365 licenses, and other aspects in a single click. These reports make Office 365 administration a lot simpler.

This tool provides the Archive Mailbox Sizes report that shows all the archive mailboxes, and their respective display name, archive size quota, usage, archived items count and other details.

Steps to view Archive Mailbox Size report

1. Go to the Reports tab of O365 Manager Plus.


2. Navigate to Exchange Online --> Mailbox Reports in the left pane.


3. Under the Size Reports category, click on Archive Mailbox Sizes.


4. Choose the Office 365 Tenant and Domain.


5. Click Generate Now.


The reports generated by O365 Manager Plus can be exported to PDF, CSV, XLS, or HTML format. The reports can also be scheduled to be generated at specified intervals, and have them delivered to your mailbox.

Read more about the reports provided by O365 Manager Plus, here.