The retention policy in Exchange specifies the deletion and archive rules that are applied to every mailbox. In Exchange, a default retention policy is created and applied automatically to all mailboxes. If you want to customize the deletion and archiving rules, you need to create a new retention policy under the Compliance Management option in Exchange Server or Exchange Online.

In Exchange Online, you also have options to create retention tags that are used to apply retention policies to folders or individual items. However, with varied retention policies being applied to various mailboxes in your organization, monitoring those policies can be a real challenge.

Monitor retention policy using Exchange Reporter Plus

Exchange Reporter Plus offers an exclusive category of reports covering various facets of retention policies in Exchange Server and Exchange Online. Using these reports you can monitor which retention policies are created or modified, and get a list of the mailboxes associated with a particular policy, the rules set in a specific retention policy, and so on. Reports offered under this category are listed below.

Exchange Server retention policy reports:

1. Retention Policies

Shows all the retention policies along with when they were created and last modified.

2. Number of Mailboxes with Policies

Shows the number of mailboxes associated with each retention policy.

3. Mailboxes with Policies

Lists the mailboxes associated with a specified retention policy.

4. Retention Policy Details

Shows the details of a specified retention policy.

5. Mailboxes without Retention Policies

Shows mailboxes that are not associated with any retention policy.

Exchange Online retention policy reports:

1. Mailbox Retention Policy

Displays the list of policies applied to the mailboxes in your Office 365 tenant.

2. Mailbox Retention Policy Details

Gives information regarding the creation and modification of retention policies.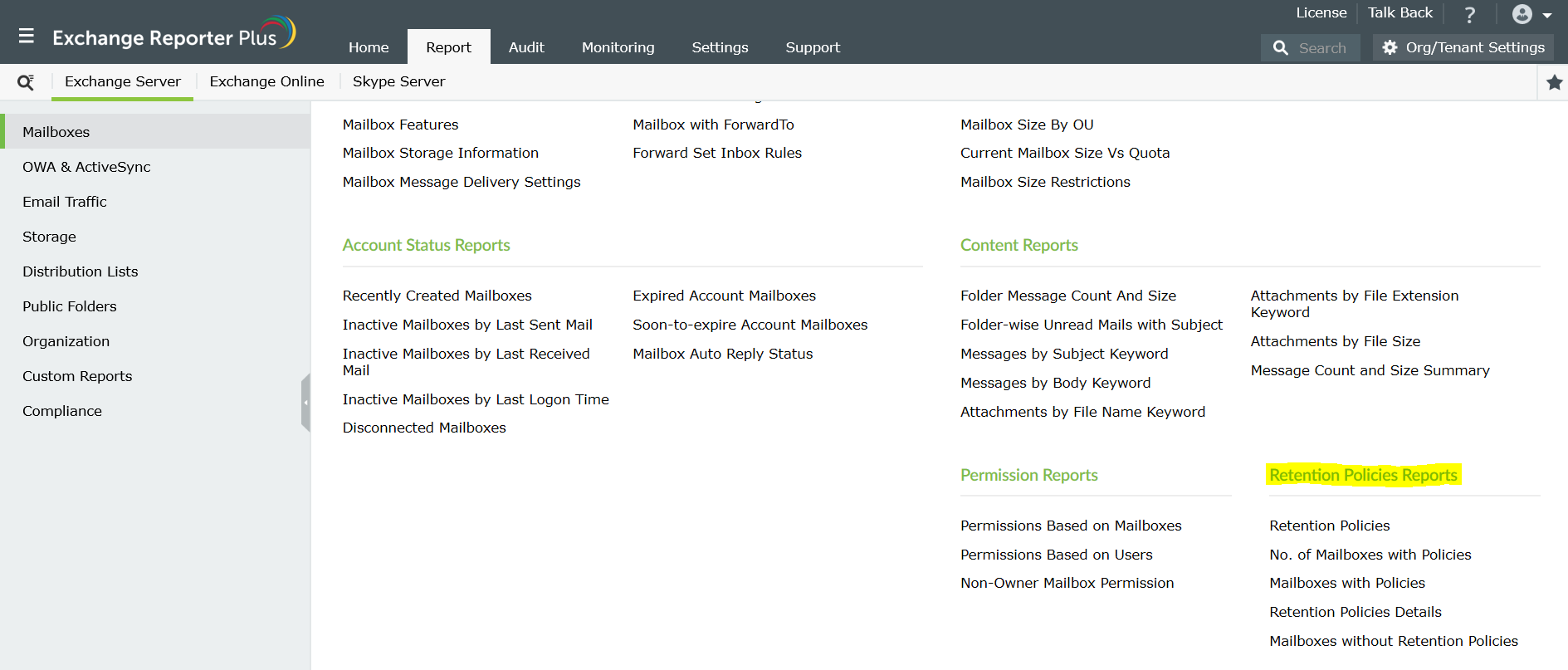 How to generate retention policy reports in Exchange Reporter Plus
1. Go to the Reports tab in the top pane.


2. Navigate to Exchange Server > Mailboxes > Retention Policies Reports.

Note: The Exchange Online reports are available under the given path:

Mailbox Retention Policy Report: Exchange Online > Other Services > Security Reports > Mailbox Security Reports.

Mailbox Retention Policy Details Report: Exchange Online > Mailbox Reports > General Mailbox Reports.

3. Choose the report that you want from the available options.


4. Select the organization or retention policy for which you want to generate the report.


5. Click on Generate Now.

Using these five simple steps, you can monitor all the retention policies in your organization and know about any changes made.
Learn more
about how Exchange Reporter Plus can simplify your Exchange monitoring needs.