[Free webinar] What's new with Analytics Plus in Q1, 2021?
Join us for a
free webinar
on May. 11, 2021 to learn how some of our newly-launched features and integrations can help you achieve your IT goals faster.
During the webinar, we'll discuss some of our latest updates including

Inventory analytics for Desktop Central integration

Importing data from local databases such as SQLite, Progress OpenEdge, Hive, Firebird, YugabyteDB, Microsoft Access and SAP HANA

Identifying trends and patterns in data using trend lines

Improved and intuitive ZIA assistant to fast track IT reporting

Improved export and e-mail dialog boxes

New chart types such as histograms etc.,

New pattern palette for your charts

Enhanced user filters for a more friendly user experience

Refreshing new UI for login and data import screens and much more!

Date: May 11th, 2021

Time: 10am GMT | 10am PST | 10am AEST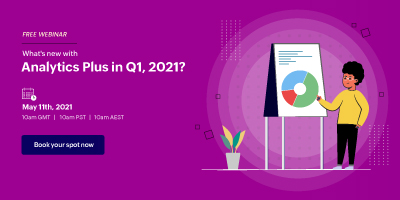 Related Products